Angie is one of three generations who have volunteered for Hospice West Auckland. Her mum was a long-term Patient and Family volunteer, and her son has volunteered at a Hospice Op Shop as part of his Duke of Edinburgh Award duties. Having volunteered every week at the local Op Shop for the past three years, Angie has now extended her volunteering role to End-of-Life Care, a specialised role providing support to patients and families in the comforting environment of their own homes during the last days or weeks of life.
Heartbreakingly, Angie and her family were impacted by Hospice when her mum was diagnosed with lung cancer and passed away just three short months later. "It was comforting to know there was somebody there outside of GP hours. The nurses were so caring, it was lovely having them come into your home – it meant so much. And the fact that the services are free is just amazing." Having done a variety of volunteer work throughout her life, joining the Hospice team seemed like the natural next step: "It felt like something quite special to me because I could give back," she says.
To Angie, donating her time as an End-of-Life carer is incredibly special. The support she provides during her visits can include reading aloud, talking, hand massages, carer relief or other simple acts of comfort and companionship not only for the patient but the family too. As a naturally compassionate and perceptive person, she instinctively adapts to each visit to provide support in whichever way it is needed. "It's about being there so they don't feel alone, and helping in small, meaningful ways," she explains. "To me, that time is so precious. It's a very humbling experience and it's nice to give the family some support. I may not have medical skills, but I can give my time and that is hugely rewarding for me."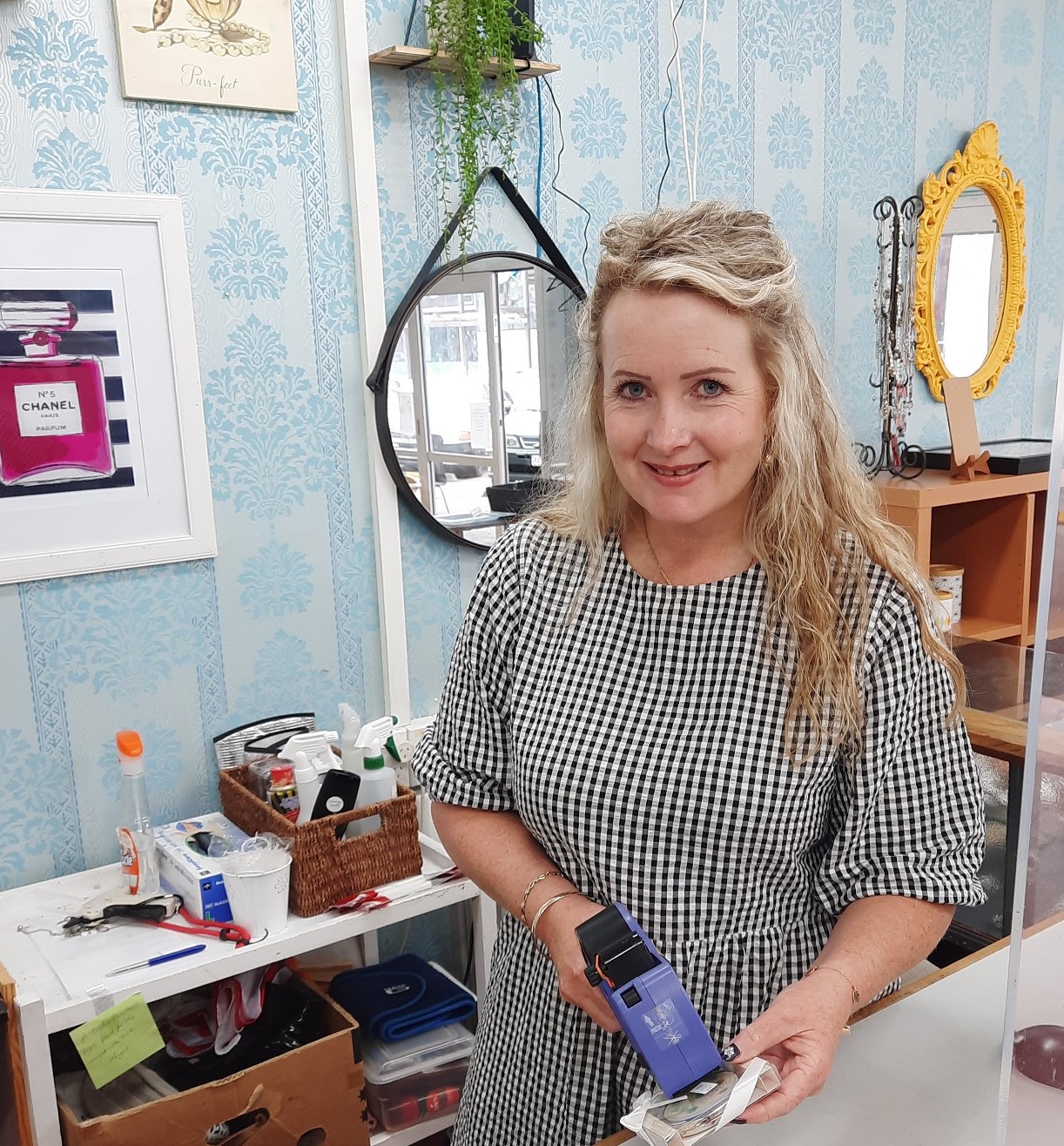 Angie loves her regular shift at the Op Shop too. As a huge fan of fashion, she looks forward to sorting through the donated clothes, and enjoys conversing with people from the local – and wider – community, who often share their experiences with her. "We even have people from overseas come into the shop who are here on holiday, and they share their stories too. Sometimes it does bring me to tears when I hear people's stories."
As a busy real estate agent, she loves the contrast of those weekly shifts in the store sorting and merchandising donated goods and serving customers. "I find it really relaxing after the competitive, high-stress real estate industry. It's so fun working with the products and customers, and the staff are awesome too," she says.
Hospice West Auckland has over 200 active volunteers contributing their time and skills to the organisation in roles ranging from retail assistants, fundraising volunteers and drivers to Patient and Family and End-of-Life Care volunteers and more. For Angie, it's a rewarding and empowering way to spend her time for a cause so close to her heart. Her advice for anyone is thinking about volunteering for Hospice is to let your heart decide. "It's usually a personal experience that drives you in the direction you're meant to go, and that's definitely true for so many Hospice volunteers. One of the best things about donating your time – giving – is that it comes back. You get it back in another form. And Hospice fills up my cup."
Angie acknowledges that for some people, the prospect of hospice work can be emotionally challenging. However, she is quick to clarify that she personally does not find it to be overwhelming emotionally. "I think death is the result of a fulfilling life. It's the closing of a chapter, a return to the earth. I had a really holistic, beautiful experience with mum. So for me, death is not scary."