Mary-Rose has just published her first book, a children's story called 'My Granddad Drives A Hot Rod!' She was also diagnosed with stage 3 ovarian cancer almost 10 years ago, and in 2021 was given a terminal diagnosis. She has endured multiple surgeries and a myriad of resulting complications, as well as chemotherapy.
Mary-Rose's husband Shane and his friends founded the Trouble Bound Hot Rod Club in 2010 and the members are all like family. When Mary-Rose received her cancer diagnosis and began her long treatment path, the club created their first ever TBHRC calendar to raise funds towards the huge medical costs and long periods of time off work. The pin-up hot rod calendar was picked up by the supportive hot rod community and sold thousands of copies. "That was a financial life-saver," says Mary-Rose. "We'd bought a house three years earlier, so we had a mortgage to maintain. And I needed a long time off work, it was at least six months."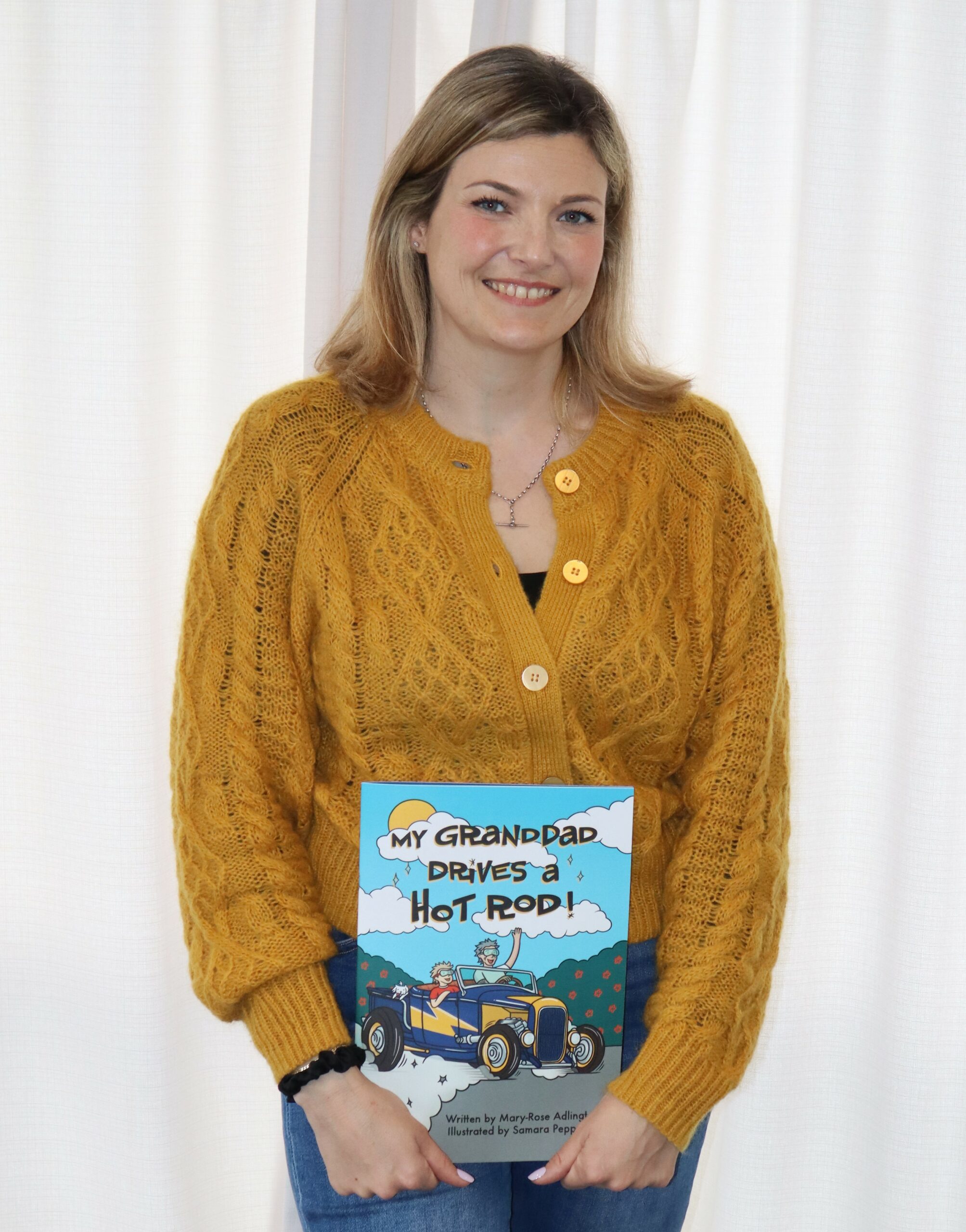 Initially given an indicative diagnosis of approximately five years, Mary-Rose has continued to defy the odds. It was two years ago when her medical specialists advised there were no further treatment options and Hospice West Auckland joined her care team. As well as monitoring her to provide as much or as little hands-on support as Mary-Rose needs in any given week, Hospice is there to provide on-call advice. "It's been really good to have a point of contact, that you actually feel is in your corner," says Shane. "Quite often Mary might have issues at night, or in the weekend, and you just can't get reach anybody. So it's been nice to have somebody to give you answers – or find out answers – or even just reassure you." Mary-Rose has also used some of the social care services that Hospice provides too, particularly massage therapy and counselling. "It's nice to know that those extra services are there, and really easy for us to access – we feel quite lucky," she says.
The one silver lining to the devasting terminal diagnosis was that it was a catalyst for Mary-Rose and Shane to seriously reevaluate their lives. She was fortunate enough to have both life and income protection insurance, which has enabled the couple to change their focus and prioritise their time together – truly living every moment. "Now I tell everybody to make sure their insurances are up to date," says Shane. Mary-Rose agrees: "We're big advocates of life insurance, which we got when we first got our mortgage without really thinking too much about it. It's allowed us to keep our house, even though at the time you never really think you'll need life insurance. We were very lucky." Gone are the days when Shane would spend two hours commuting to and from work, leaving early morning and returning after dark even when Mary-Rose was undergoing or recovering from surgery or chemotherapy. Together they decided she would not return to work after the terminal diagnosis, and with Shane working reduced hours, they have the freedom to spend time doing the things they enjoy. For example, since being free from covid lockdown restrictions, the couple have travelled extensively – something Mary-Rose has always loved to do. Their trips have included driving a motorhome around the South Island, as well as international trips either together or with family or friends to Disneyland, Rarotonga and Aitutaki, Paris and London. "I got all my travel in after being trapped with covid!" Mary-Rose laughs. "I'd like to go away again. I'm not allowed to go too far anymore, so Australia would be my place now. And there's access to top medical services if I happened to need that support. Shane's a bit nervous about travelling with me in case something happens, but I think we should just show up the airport and hop on a plane!"
Mary-Rose is vibrant, honest and down-to-earth, just like her newly-published book, 'My Granddad Drives A Hot Rod!' "As well as being in a hot rod club now, Shane was brought up in a hot rod family, and after being together for 18 years it's been a big part of my life too," she explains. "It was nine, maybe ten years ago after chemo when I couldn't sleep in the middle of the night that I started to write this story, using my niece and nephew for inspiration." And it was when she received the terminal diagnosis that she decided she would like to see it published and turned into something that's real. Finding an illustrator was difficult, but Mary-Rose says that Samara Pepperell was amazing at interpreting her storyboard and bringing the story to life, adding her own artistic tweaks.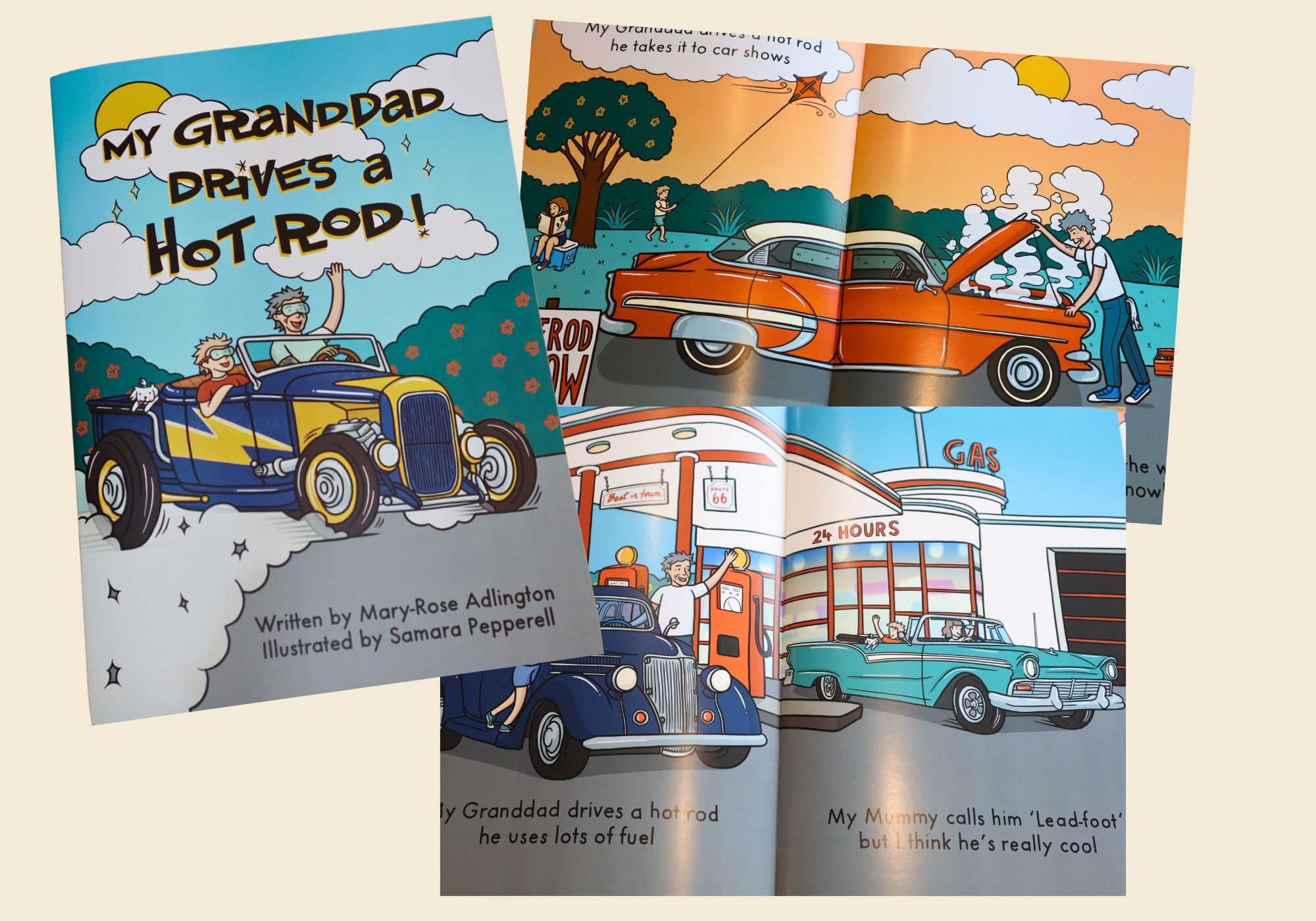 'My Granddad Drives A Hot Rod!' is a charming, feel-good story featuring down-to-earth characters that we can all relate to – evidenced by the fact that it is selling well not only throughout New Zealand but also in Australia, Canada and the US. To date it has sold 400 copies, and they have already received pre-orders against the next print run of an additional 200 copies. "It's been a bit overwhelming because we didn't expect it to happen, but I'm super proud of it," says Mary-Rose. "I've had some lovely messages from people too, like 'we're grandparents and we have a hot rod and this is just the perfect book to share with our grandkids'. And a lot of messages saying that this book could be their own family."
If you would like to order a copy of Mary-Rose's beautiful book 'My Granddad Drives A Hot Rod!' ($20 + postage) please email her on maryrose.adlington@gmail.com.