Laurette and Spencer have just celebrated their 45th wedding anniversary with more than 50 of their family and friends at a glittering 'Hollywood glamour black-tie' themed event. "It was great to give everyone a reason to dress up – they all enjoyed it," smiles Laurette. "Most of the men came dressed in bow ties, white shirts and dark suits, and the ladies came with glitter and glamour." Guests travelled from all over New Zealand and even Australia to be there to celebrate the special occasion. "It was a busy time, but a really happy time and I wouldn't have missed it for the world."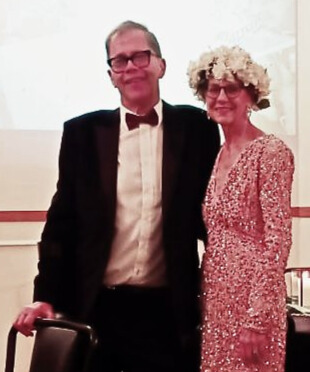 Laurette was born to New Zealand parents living in Samoa before moving to Fiji at just six months old. There she was best friends with her (now) husband Spencer's sister from around six years old, and the two families were firmly intertwined.
When she was 13, Laurette came to New Zealand to attend boarding school in Masterton, and afterwards went on to complete her nursing training in Palmerston North. It was the beginning of a rich and rewarding career in the health care field. She transitioned from hospital nursing to nursing in general practices, marking the start of her community-based career. She managed the Outpatients departments at both North Shore and Waitakere Hospitals, and played a significant role in developing and designing Waitakere Hospital's expansion. She also consulted in a quality role at a hospital in Micronesia before returning to Auckland in managerial roles at aged care facilities. "I've had such a variety of roles within my time as a health care provider, it's been amazing and I've loved it," she smiles. "Some of them I just fell into, but it was the way I learned, and I have absolutely no regrets."
Laurette was diagnosed with cancer in 2016 and has since undergone surgery as well as chemotherapy and radiotherapy. In 2019 she was well enough for her and Spencer to embark on a three-month trip overseas with Spencer's sister and brother-in-law, exploring Europe and neighbouring countries. "It was a big undertaking but a wonderful holiday to remember," she says.
Late last year Laurette and Spencer both fell very sick after contracting covid for the first time. Laurette was due to start radiotherapy just three short weeks after, and this still went ahead as delaying treatment was considered too risky. "I really struggled with that course of radiotherapy, and because it was in the abdomen it really affected my digestion," she explains. In January this year, after being admitted to Waitakere Hospital with debilitating symptoms, she admits she got a bit of a shock when the doctors told her they were contacting Hospice West Auckland. "But they explained it was to help manage my symptoms – and I've been under Hospice care ever since," she says.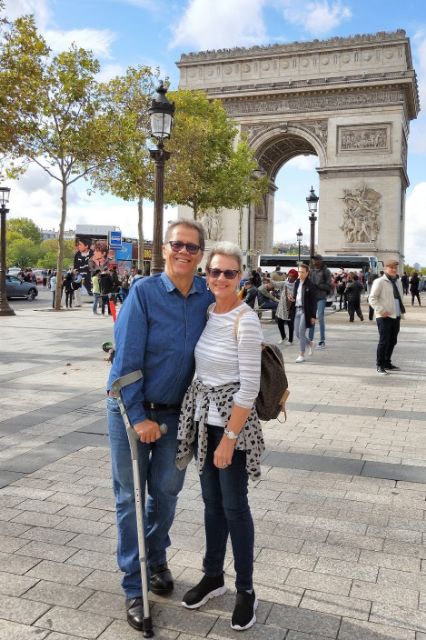 Hospice set Laurette up with a syringe driver (a small battery-powered pump that delivers a steady stream of medication) to help alleviate her chronic gastrointestinal symptoms. This quickly provided significant relief and made a huge improvement to her quality of life and independence. The next step was to move her away from reliance on the syringe driver by trialling a monthly injection – which has been extremely successful and allowed a welcome return to the lifestyle she loves.
Laurette nominated her Hospice team to be her lead provider and say they have been fantastic not just at symptom management but also at coordinating her care among her many health care providers. "A lot of my good days versus bad days are all led by symptom control, so Hospice has helped to give me quality of life. They're allowing me to enjoy and live my life."
Laurette has also taken advantage of some of the holistic care services that Hospice West Auckland provides, including acupuncture, Rongoā Māori and mindfulness, and also plans to try Tai Chi when she feels up to it. "It's just been fantastic, and those treatments together with my medication management really has helped me so much," she says.
"I've always felt I'm a 'glass half full' person," Laurette explains. "I enjoy the good days and don't focus on the negatives. I'm fortunate to have strong mental health. I think one of the good things for me since developing this cancer is that I haven't had chronic pain, so I've been able to remain pretty upbeat. But there are definitely days when I have to listen to my body and not push it."
Laurette says she sets herself small, achievable daily goals, which could be getting to the supermarket, baking or tending to her house plants. As she says, they're not huge goals but it always feels good to be able to cross something off.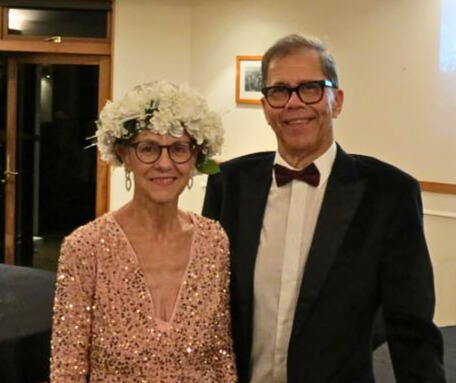 Undertaking a 45th wedding anniversary party definitely took patience and accepting a lot of help. "I have my good days and my bad days, and on my bad days I couldn't even think about planning a party. But on my good days it gave me something to work on, and I was lucky to have a lot of help." For example, as she wasn't well enough to go shopping for dresses in person, Laurette's daughter helped her pick out a stunning sequined gown online. The outfit was completed with a floral headdress made by Spencer's cousin in the Gold Coast in a beautiful homage to Laurette's island heritage.
Laurette finds that the advice and support Hospice gives is just invaluable. "Sometimes it can be more of a treatment-related question, like for me it's oncology, but Hospice know it all and can give advice. Sometimes it's just needing to know: do I follow this up? Or is it ok to wait? Will it resolve? There are no dumb questions." She says without that advice and reassurance you can feel very alone. "And if it's the weekend and I'm feeling really sick, Hospice will come out to see me. They really are there for me. I'm very, very grateful." Laurette is also grateful for the wonderful support her family gives her, and admits that she just couldn't manage without them.
Laurette believes her nursing training has helped her to navigate her journey. "I know what's ahead and I'm not saying I'm not scared about it, but I know what I have to deal with," she says. "It's also helped me to understand signs and symptoms, and my Hospice nurse has told me that I'm really good at listening to my body – I'm very tuned in and reactive to what I need to do."
Like many people, Laurette didn't realise the major role that Hospice can play in managing symptoms. "When I mention Hospice to people, they look at me in a shocked way, and I explain how much they can help with symptom management," she says. "I tell them that Hospice offers a lot of services that help improve your quality of life – and I'm a great example of that."