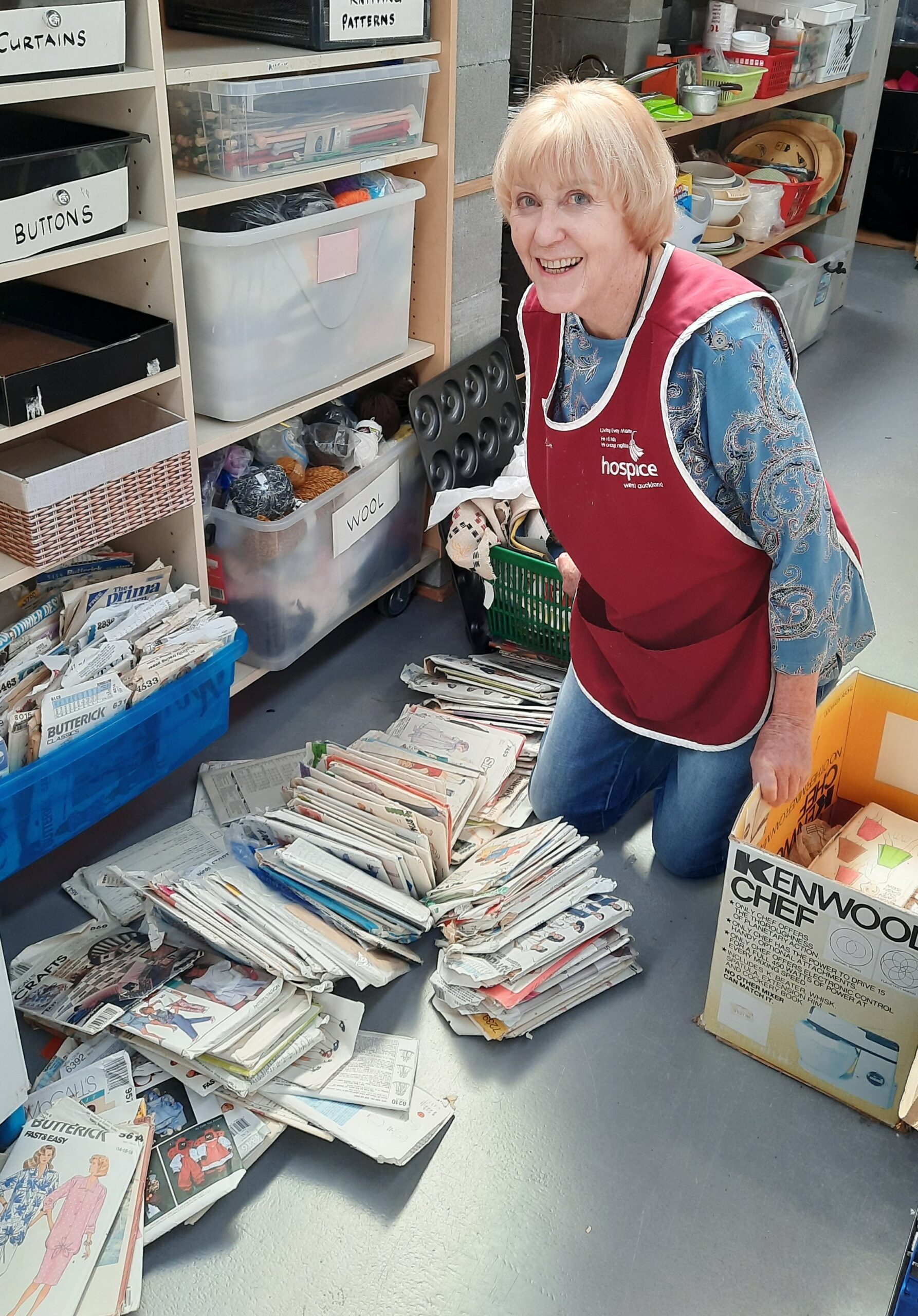 Hospice West Auckland has a team of over 150 volunteers who generously donate their time every week to help keep our six Hospice Shops across West Auckland running smoothly. Liz has been volunteering at our Helensville Hospice Shop since the early 2000's. Every Wednesday she can be found knee-deep in stock, using her expert eye to sort and arrange items to their best advantage.
"The Helensville Hospice Shop is a lovely shop," she says. "I am a retired schoolteacher and have taught all around the Helensville district, so now I see the kids that I used to teach, and they have their own children too. It's a lovely way to keep in touch with everybody and it's such a friendly store. There are regular customers who come in every Wednesday and I really look forward to seeing them – we've gotten to know each other well and have a lot of fun together."
Liz says her volunteer role is great fun and uses her people skills. "We all have a laugh and a giggle! Coming here is not a chore at all. Everyone is here because they want to be, not because they must. And helping people is half my job, I like trying to find just what they are looking for."
Liz's years of retail volunteering experience are invaluable when it comes to merchandising and displaying stock. "I know what sells and what doesn't sell. If I have to clean and dust and move something around for six weeks, then I know it's not going to sell no matter where I put it in the shop. Today, for example, I'm cleaning out some of the dressmaking patterns to make more space for wool, because wool always sells. We're lucky that we receive really good quality donations and keep our prices low so stock should never sit around for long." She also credits store manager Michelle with changing the store around regularly to keep it fresh and interesting for the customers.
As well as restocking, sorting and displaying, cleaning can be another big part of Liz's busy day. "Keeping the stock clean is very important," she says, "so we work hard to keep the whole shop clean, tidy and inviting."
Liz says that nothing is ever really out of ordinary in the shop. For example, two beautiful, ornately decorated thrones were recently donated, and both were promptly snapped up by a customer who fell in love with them. "Some of the things that come in here really are incredible," says Liz. "After all these years I'm still amazed by something every week. It can be quite moving, too, when someone has passed away and you see the special treasures and sentimental items that they've kept. It's very touching."
Liz is proud of the services that Hospice provides to the community and believes the care and support that patients and carers receive at home is outstanding. "People need to be at home where they can talk to people they know, have people visit them, they know their way around and have all their belongings surrounding them. Even making sure they can get their prescription or groceries – we ask all those questions and give that help. That level of care is so important."