Brian was cared for by Hospice West Auckland from 2020 – 2021. Here his wife Teo and sister Diane share his story.
Brian was born and raised in Te Atatu North, the youngest of four siblings and the only boy. He loved living out West, and after completing his OE it was an easy choice for Brian and Teo to return to Te Atatu to establish their family and raise their three daughters. He was immensely proud and happy to be there, and with strong family ties, was ideally close to his parents.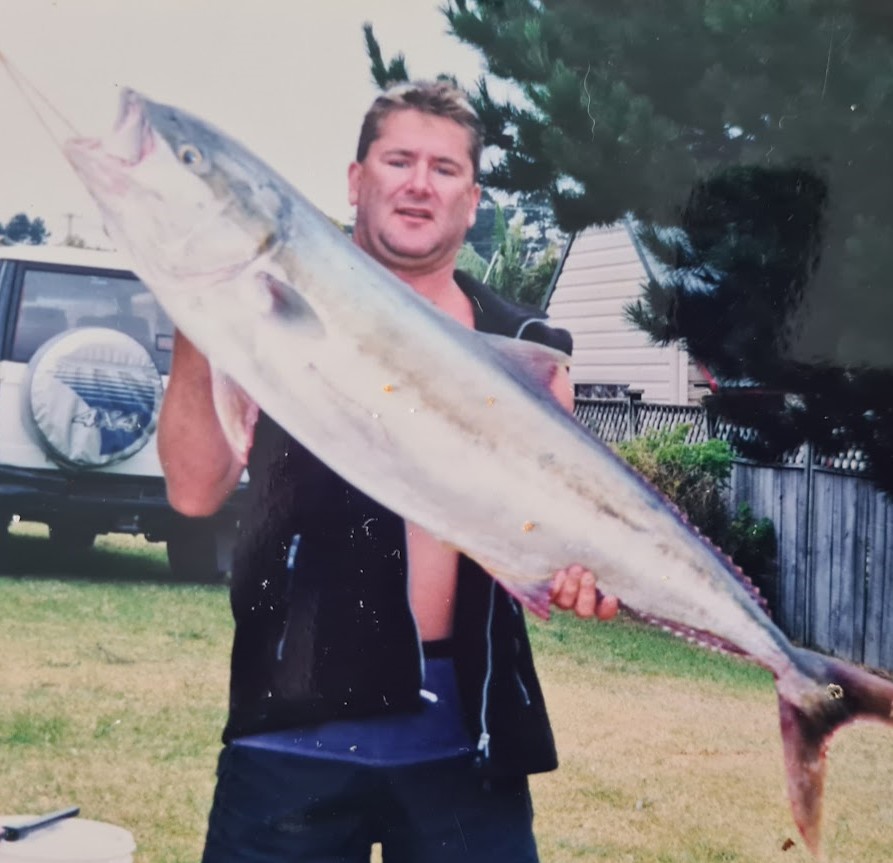 Brian was an intelligent, entrepreneurial and ambitious person, always thinking and planning. He had an incredibly positive personality and having fun and great family times were his mantra! He also loved the outdoors: fishing, the beach and family adventures. He took every opportunity to live life to the fullest, with his family.
Friends were also very important to Brian. They were drawn to his charismatic and witty personality, and he had the rare talent of being able to draw people together. "He was what you called the life of the party."
It was four years after his cancer diagnosis when Brian, aged 54 years, came under Hospice West Auckland's care. Fighting with all his strength, he had strongly argued against contacting Hospice, believing it would be a sign that he had given up. But when a particularly bad patch left him unable to manage his pain, he then agreed that expertise in pain management from Hospice, was what he needed. "Once Brian was on board with Hospice, it was just wonderful how they were able to help turn things around and make it so much easier and comforting for him" said Teo. "Dr Celia and Shannon visited and were just fabulous in assisting to manage his pain". They became his team for the next year and a half and involved us in every step of his treatment."
Brian and his family quickly realised that there was so much more to Hospice than they'd thought. "Hospice is a frightening word when you're terminally ill," said Diane, "But it's important to know that they can actually help from the beginning of your journey of the initial diagnosis and make it much more comforting for everyone affected."
"It might sound strange, but Hospice gave Brian so much joy" agrees Teo. "They became a big part of his life, and our lives. Whether he was visiting Hospice House or if Dr Celia or Shannon were visiting at home, it was very reassuring for us all. His charm and laughter captivated everyone, including the Hospice House ladies who were drawn in by this and would make a fuss of him."
Diane also made use of counselling sessions at Hospice to learn how to navigate her role as a support person. "As Brian's sister I wanted to be there to support him, Teo and the family in the best way I could, without overstepping or upsetting anyone. It's a hard thing to talk about, but Hospice guided me on how best to provide help, explained what Brian and Teo might be feeling, when to step out and give them space, and even what words to use that are kinder and more gently received."
Brian wished to be cared for at home, and Hospice provided everything his family needed to make that happen, from equipment to medication to even arranging additional services such as hospital care. "Hospice supported us the whole way, they became our first point of call, and we were so grateful" said Teo.
The Lorigans are a family with a long history of supporting Hospice West Auckland. Diane and Brian's mother Barbara Lorigan volunteered every week in the Te Atatu Hospice Shop for many years and instilled in her family the wonderful habit of always donating goods rather than throwing things away. And one of Brian and Teo's daughters, Caitlin, was a Youth Ambassador who has often volunteered her time – and most recently developed a wall calendar that donates a percentage of sales to HWA.
Dragonflies have become a very special symbol in the Lorigan family. In the Hospice West Auckland tradition, they received a beaded dragonfly and 'Dragonfly – Te Kapowai' poem as a keepsake to bring comfort when Brian passed. Both Teo and Diane have dragonfly sculptures in their gardens that give them beautiful memories, comfort and a connection, and Diane has a stunning dragonfly tattoo.
Teo and Diane recently attending a workshop held at Hospice House on how to make the beaded dragonflies that are given to families. This was another way for them to give back to Hospice West Auckland.
"Hospice should not just be associated with end of life," said Diane. "As well as being specialists in pain management, they provide many other amazing services like physio, massage, arts therapy, counselling and support for the whole family. We cannot speak highly enough of them.
"Hospice gave us so much laughter, joy and comfort. It also allowed Brian the honour of being able to trust at a time when he was immensely vulnerable. It's a relationship we are so grateful for."